"Finally, I'm starting to feel seen and its not because I was invisible before, as I have always been passionate in doing what I love and doing it well, but the world around just didn't open their eyes." says fashion designer Anyango Mpinga as we discuss her journey through the industry, the challenges she has overcome and the urgent need for real change to take place in creating a future which is free of racial bias.
Born in Nairobi, Mpinga has drawn so much inspiration from her childhood and culture and, while the road to becoming an internationally-acclaimed designer has not been an easy one, she feels her journey is still just beginning. Laughing, as she recalls various childhood memories, including her mothers reaction upon her request to attend art school (which was promptly denied!), she looks back with gratitude for the support system she has found in close friends and family around her. With art school out of the question, Mpinga then followed in the footsteps of her father, a well-known journalist in Tanzania, and went on to study broadcast journalism and received a BA in Social Communication at the Catholic University of Eastern Africa. This gave her a passion for language, and the history of communication across the world and, once her studies were complete, she relocated to Addis Ababa to work as a researcher and scriptwriter for a documentary series, The Making of the Nation. Working as an intern initially, she then moved onto her first official job for an advertising agency, organising corporate and commercial events alongside music festivals across the country.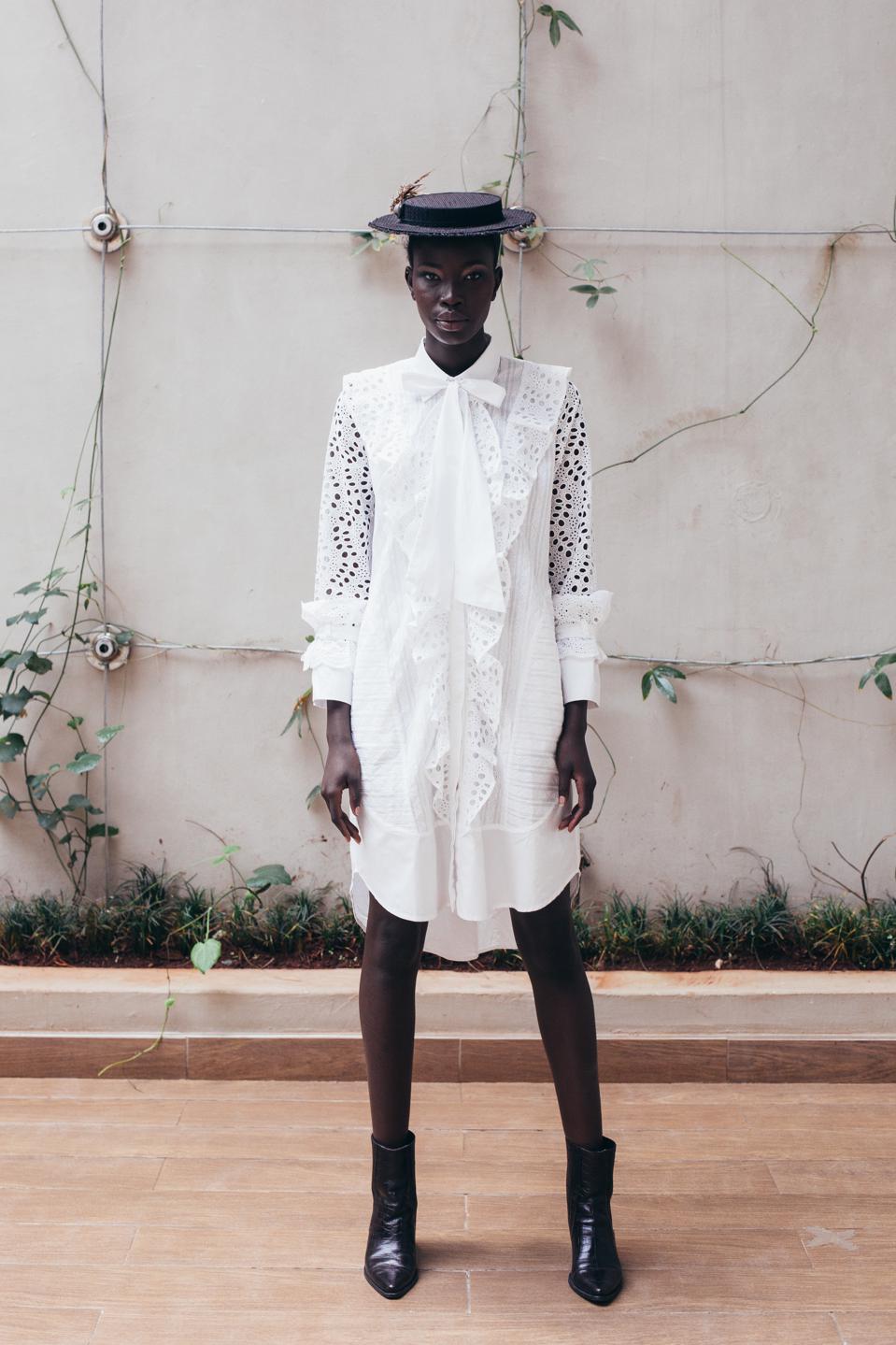 As we discuss the early years of Mpinga's career, she tells me how it was during her time in Ethiopia that she began to investigate her love for fashion. "I noticed how locals celebrated a love for their culture within their clothing," She recalls. "I began to do the same, experimenting with garments such as the Kanga and traditional Kenyan prints." After partnering with a local tailor in Addis Ababa, Mpinga began to garner interest from friends who admired her creations and wanted items to be designed for themselves. It wasn't until she was organising a fashion event, through the agency she worked with, when a lightbulb moment occurred. "One of the designers asked to dress me as I was the MC for the evening," Mpinga remembers. "But I turned her down as I told her I wanted to wear one of my own designs. I wore my dress – which sparked a lot of attention that night – and I turned to my friend during the evening saying, I need to take this more seriously. Something shifted in my mind that night and I knew I had to pursue it."
In 2011, Mpinga began testing her creations commercially, within her own circle of contacts, which helped develop a knowledge for pricing and production. She sold dresses from her home back in Kenya which, in turn, after gathering a lot of local attention, led to the hosting of her first fashion show a year later in Ethiopia. "I was keen to address the lack of representation within the industry, especially for curvy women," She explains looking back on the event and her desire to disrupt the industry. "I stipulated that I would use the show's models for my first 5 outfits, but I was adamant the remainder would be modelled by my own friends and contacts." This determination and passion for change didn't go unnoticed. The show drew a lot of positive attention to Mpinga's work and it resonated amongst the audience with many stating it was the first time they had seen such representation on the catwalk.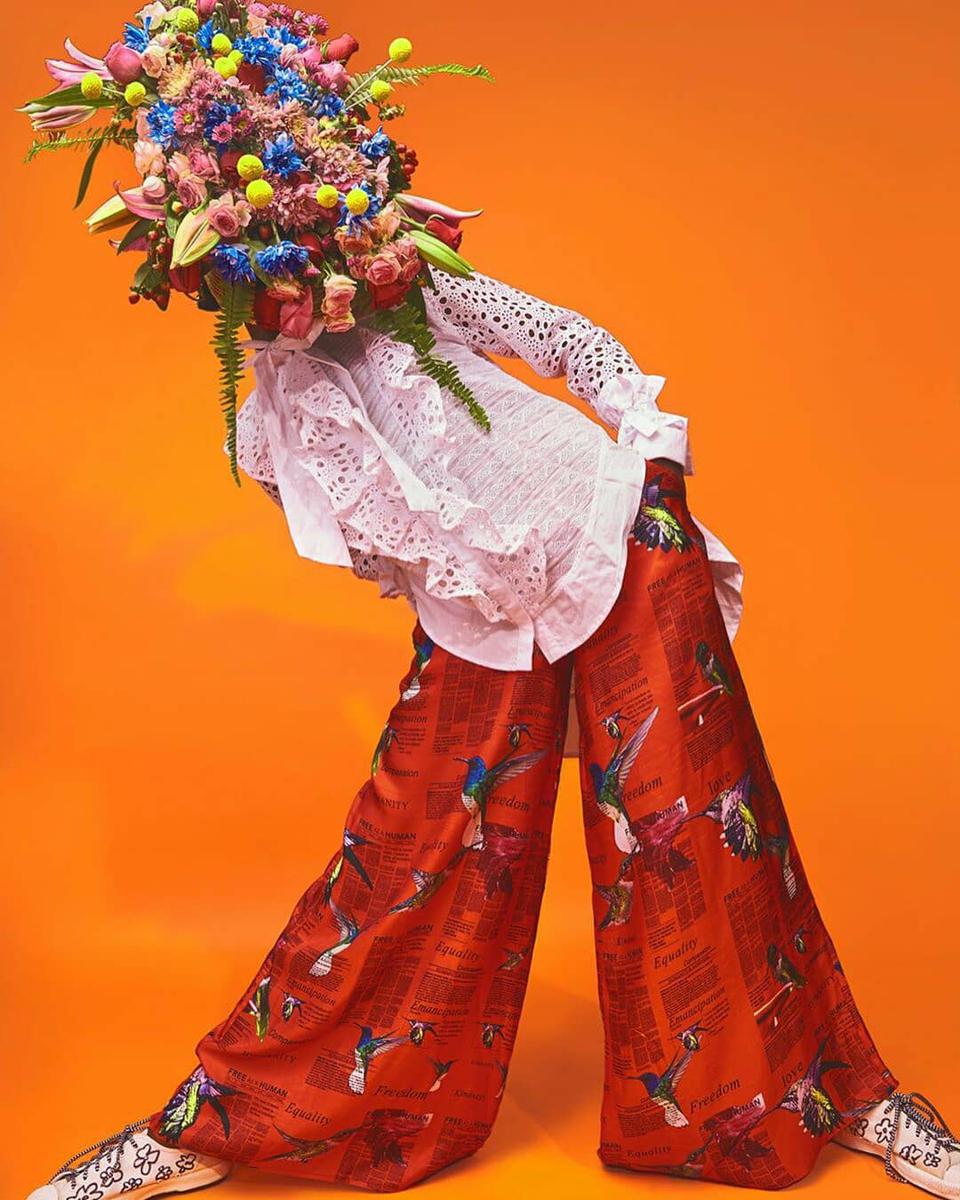 Consequently, this led to further meetings and new clients who were keen to invest in the collection causing Mpinga to realise there was no turning back. "I went to Ethiopia with $20 to spend." she laughs as we chat, socially distancing in her temporary London apartment. "All my money had gone into the collection and friends looked after me while I was in the city working on the show." She continues. "However, in the week after the event, I ended up leaving with $3000 in deposits. I remember thinking, I guess this means I'm in business officially now!"
With the industry witnessing the passion and hard work that Mpinga dedicated to her designs, she began to turn heads across the globe. Establishing an official studio back in Nairobi, she took her size-inclusive fashion brand to the next step. However, this also came with another set of challenges. Across Kenya others decided to copy her work, even down to her original brand name and identity. She quickly realised a different approach was needed. By rethinking her design methodology, and rebranding under her own name, it allowed Mpinga to be identified directly with her creations, protecting her from further plagiarism.
In 2014, she was selected for the African Designers for Tomorrowprogramme, which was initiated by Berlin-based agency FA254, with the event taking place in Nairobi. . In the years since, the designer has gone on to feature at a number of different fashion weeks across the world including Tokyo, Paris and now Helsinki Fashion Week which takes place digitally this week. Discussing the future of fashion weeks as we know them, Mpinga is excited to be involved in the transition to digital formats. "Fashion weeks are centred around catwalk collections which aren't often suitable for ready-to-wear." She states before posing the question, "Is it being created purely for the sake of the show or can we remove the pressure that is placed on brands to continually create something new?" This questioning for a renewed approach to fashion is why the designer releases only one main collection per year, and has moved away from the traditional seasonal calendar in a drive to be more sustainable.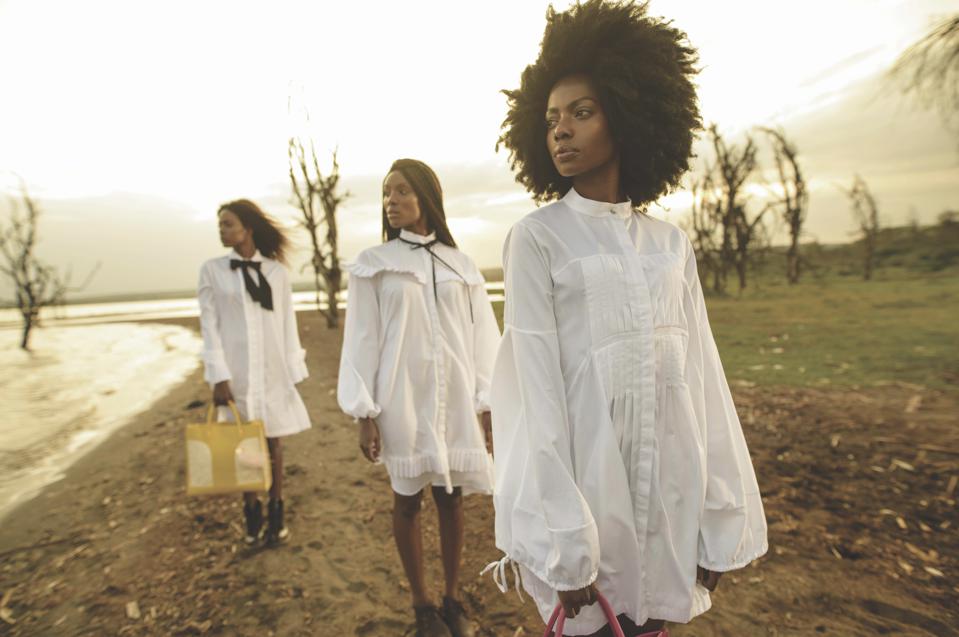 Splitting her time between Nairobi and London, where she hopes to take her brand to the next chapter of its journey, Mpinga's strong purpose towards circularity and sustainability is one of the governing principles she bases each decision on. "I like to keep collections focused to ensure the brand stays true to its ethos." She says, pointing to a box of samples and drawings on the coffee table which give me a glimpse into the beginnings of a new series of designs she will be revealing throughout the remainder of 2020. "With every collection I always start with a white shirt. It ensures I avoid over-designing and helps me to strengthen defined ranges whilst staying true to my signature aesthetic." Alongside this, Mpinga also explains how her designs are structured and measured in a way which creates minimal wastage throughout the manufacturing process.
When I ask about the inspiration behind her new collection, Mpinga pauses before responding. "This time," She replies, "it's more personal, and I've drawn inspiration internally from myself. I hope people will be able to see the passion which goes into each piece I create." The positive reaction she receives from each collection is one of the reasons she continues, she says. "I design and create my own bespoke prints which hold a narrative based around a personal connection or interest which then influences the whole collection." As she expands on some of these stories, I am drawn to The Phonology Collection, released in 2019, featuring the Sound Of Love print which highlights her attachment to communication. Mpinga recorded the words 'I love you' in 25 different languages (10 Kenyan tribal languages and 15 languages from places she had visited), from which she then captured the sound-waves visually and incorporated them into a print. Currently only available as a scarf, the print will be featuring in further designs Mpinga is hoping to release. "My prints are inspired by my culture; my spiritual beliefs and I also consider how this message is going to improve people's lives." She tells me. "Highlighting stories like this also encourages others to convey them for me, which expands the reach my work has and helps customers to connect more closely to it."
Alongside her work with fashion, Mpinga has also started her own non-profit organisation, Free As A Human. Centred around raising awareness of human trafficking, the group works hand-in-hand with HAART Kenyato help change the lives of many women throughout the country. Launched in 2018, Free As A Human is now being registered as an official Non-Profit organisation in the US and the UK. Mpinga has developed an apprenticeship scheme, as part of the project, to offer the women a selection of career choices, helping them to take the next step towards a better future. The team will also be launching a new campaign in the coming weeks, titled Human Oneness, which focuses on real solutions which can be put in place to prevent these cruel and inhumane occurrences taking place. "We have to take action and be accountable." Mpinga says when commenting on the urgent need to draw attention to the trafficking which is still rife today. "Community and support are everything, especially in these situations. Building that sense of community is not someone else's problem. It's on us all to create the change we want to see."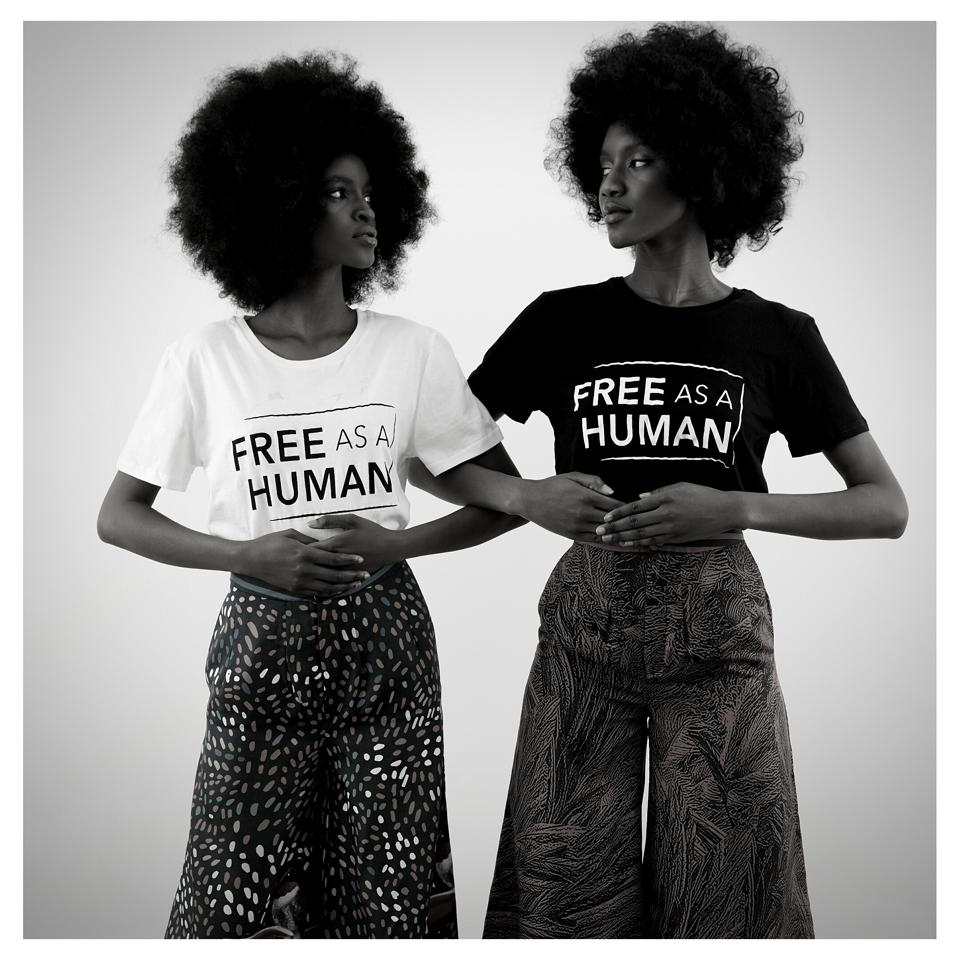 Reflecting on the last year, Mpinga remarks on how the world has shifted and how her work with the organisation has never been more critical. "We are at a crossroads." She declares. "And, going into 2021, we must continue on the path to a positive future for all." We discuss together the impacts of COVID-19 and the how the world has finally begun to take notice of the Black Lives Matter movement. "Today's society is very different to what it was last year," She says. "It's going to take time for change to happen, but we are having the conversations which is important. Someone is listening and paying attention, but it cannot end. It's not a passing trend." While she is positive about the shift in the industry over the past few weeks, Mpinga is keen to warn others of brands who may be looking to exploit the Black Lives Matter movement for their own personal gain. Speaking of a recent experience she explains the need for caution. "I was asked to offer my voice to an online platform which however, when discussing the logistics of the event, turned out to be based on the wrong motives." She continues, "Not only did they ask for payment from me, even though they were asking me to do the work for them, they were hoping to use my voice to give themselves a better appearance." With this being just one example of many Black designers who are at risk from exploitation, she is keen to draw attention to it. "The worst part was," She recounts, "when I called them out, they publicly made a statement which continued to gaslight me. We should not be tokenising Black lives just to look like we are doing something and, if a mistake is made, at least apologise with sincerity."
Speaking of the commitments many brands have made, Mpinga is passionate to ensure they do not go back on these and says a line in the sand has been drawn. "We need to continue forward so the message stays fresh and, as it's been decades of one narrative, undoing this will take time." She says. "Its really important to get to the point where we, as a society and an industry, become correct." She also encourages Black designers to continue speaking up and to understand their value within their creative circles. "There aren't enough opportunities for Black people to begin with." She comments. "This has to change but we must ensure we say no to things which don't feel right. If a deal is bad for someone else, it's just as bad for you."
The Kenyan designer also alludes to the prejudice she has received as an African, trying to make her mark in the fashion world. "The African culture has influenced so many design movements, yet it is the most exploited." She states. "The industry makes you think opportunities are few and far between but it's a lie. And, unfortunately, as Africans, we have been told so many lies about ourselves and our continent."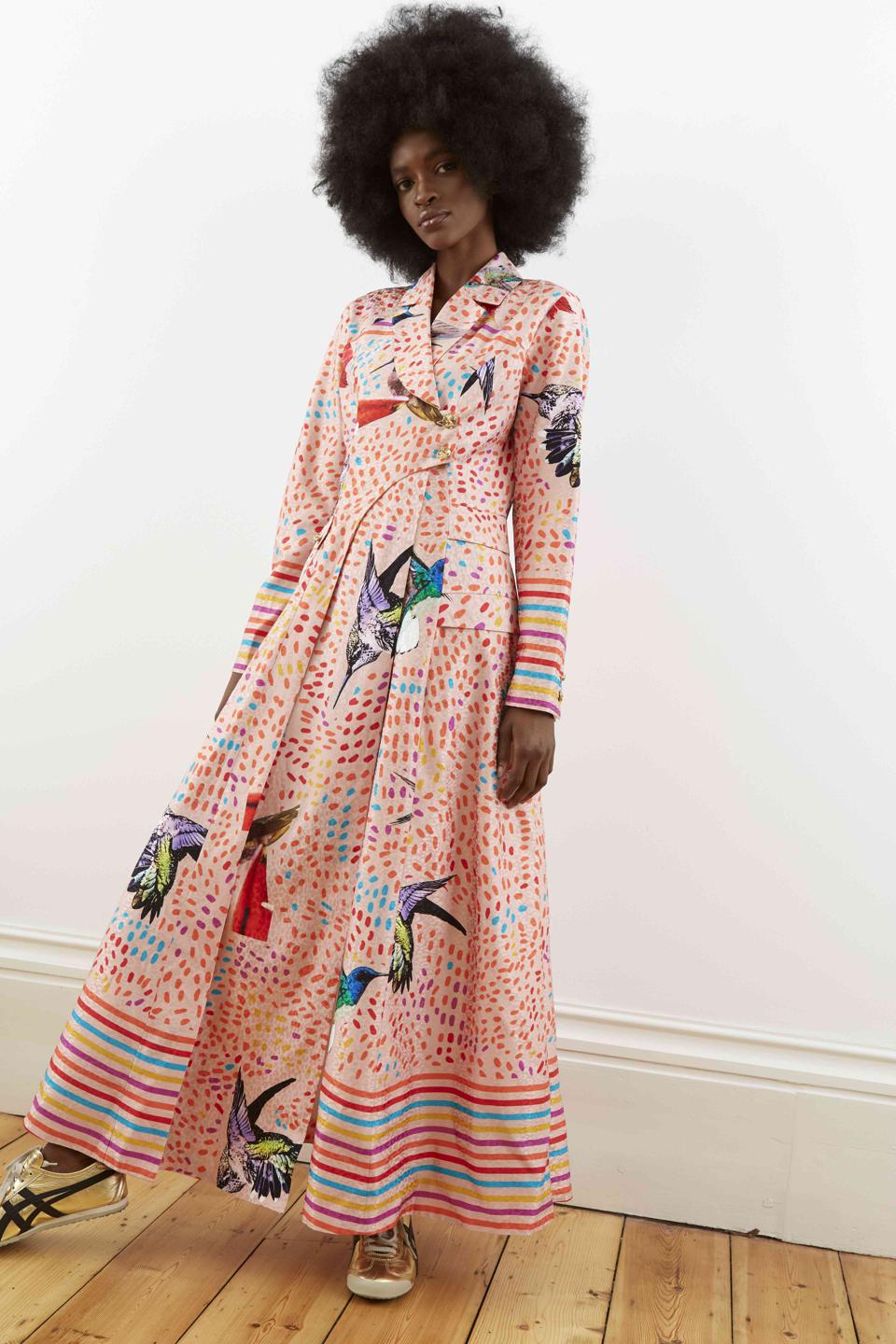 Looking towards to the future, she does however remain hopeful. "My one big goal is to be stocked with brands who have not previously been representing black designers." She stops, before adding, "It's not because of validation, I want to prove a point. The point is when you look at my designs, and when you remove the label and its exotic name, it is a beautiful dress that belongs anywhere in the world." As Mpinga expands on how she has had to push through such adversity, she also comments on how tired she is in often being the only Black or African designer in the room. "I don't want to be the first Black person to do anything anymore." She says. "I want there to be more Black people at the forefront of the industry. It should no longer be a token for a Black person, or a Kenyan, to do these things."
With the urgent need for active, rather than passive, change to take place, Mpinga hopes in sharing her story it will encourage further change to occur, especially in the fashion sector which influences a vast cross-section of society. We conclude the interview with Mpinga showing me a sneak peek of some of the new materials she is working with for her upcoming designs. Her enthusiasm radiates as she excites over finding a new fabric made from discarded cassette tape and it is clear how passionate she is to showcase her refreshing mindset to the world. "We must serve our community whilst doing anything." Mpinga concludes. "There has to be a purpose behind your brand. Not to jump on a bandwagon but to actively strive towards an industry which truly works in harmony with the society it influences and the environment it inhabits." This closing statement leaves me with hope and as I walk to the station I know that, thanks to visionaries like Mpinga, real change can happen and the positive future, which we need to urgently strive towards, is within reach if we learn from such attitudes, not just towards fashion and design, but, more importantly, to life itself.
Anyango Mpinga will be featuring at the Designers Residency at Helsinki Fashion Week which begins on 27th July. Register here to view the collection.
Written by Roddy Clarke
Full credit to Forbes. To see the original article, click here
Check out Anyango Mpinga's latest collection on The Style Pulse below: